Check out this fabulous 12 drawer library card catalog cabinet for sale on
Etsy
. It would be perfect as a console table or sofa table (like the seller suggested). Just attach some tall legs to it or build a frame for it to sit on and poof, you have a fabulous and unique piece of furniture. I'm pretty sure
I NEED THIS
to finish off my basement area but alas, the price is a bit steep for me at $450. I guess I'll have to wait and find one myself, but until then, I will covet and dream about this one.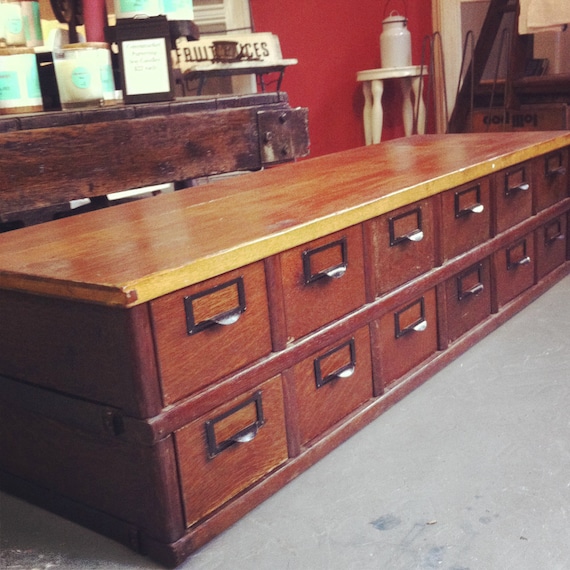 Click the picture or the above Etsy link to visit Curiosity Vintage.
They have some neat stuff.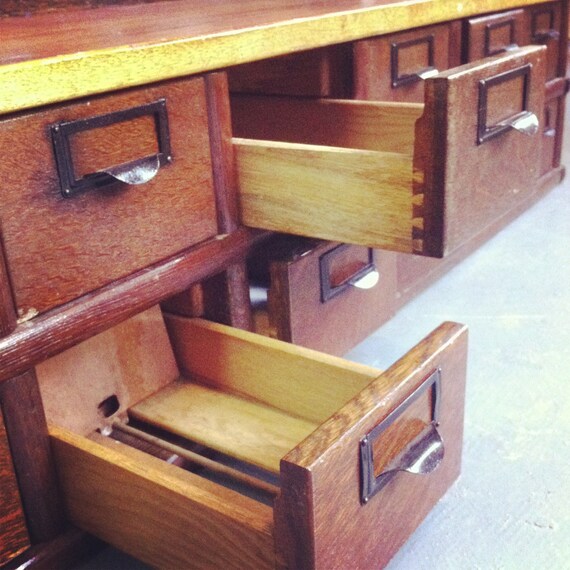 Ooo...look at that dovetailing!
Window shopping on Etsy, Craigslist or eBay is a favorite past time of mine. Some of the stuff I find is too cool not to share, even if I'm not buying it, so I will now be using Wednesday's posts as a sort of Wanted Wednesday. These shops aren't asking me to do this, and I'm not getting anything from it other than pure enjoyment from fantasizing about having a giant house to fill with all kinds of awesome treasures.
Has anyone ever been lucky enough to find something like this for a non-retail price?