These are some of the lovely things I left behind last weekend in Pueblo. I'm telling you guys, I could so be a hoarder. It takes more energy than it reasonably should for me to say no and walk away.
This metal trash can was in great shape. Aren't the cherries cute?!
So this begged me to come live at my house and somehow I said no. It is an incredibly heavy and sturdy dentist lamp, at least that is what the dealer called it. If I had a place to put it, or if I could have faked like I had a place to put it, I would have totally bought it.
These are two covered Pyrex dishes that I finally got to see in real life. I never see these with the lids. They were in beautiful shape, but they were priced way out of my league so I had to leave them behind.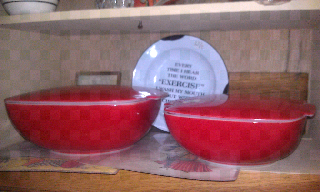 I hope you will excuse my bad pictures. I feel like dealers and shop owners look at me strange when I break out a real camera and take the time to do a nice photo so these were done with my phone, sneaky style.
Does anyone else feel like this? Should I care if these people look at me sideways? Usually I would get sassy, but I'm trying to stop doing that. One of these days my mouth is gonna get me in real trouble!
So that is it for my
Rednesday
post. I'm going to head over there now and link up and check out the other party goers. Thanks again
It's A Very Cherry World
! These color days are so much fun!