Apparently we have a resident in our shed that we didn't know about until a few days ago. The Husband went to retrieve my patio rocking chairs and heard a bunch of noises. He didn't actually see our new little tenant but we know he's made himself comfortable because he used the fabric from my rocking chairs as part of his nest. Nice...
That is why I need a cool vintage metal (critter proof) glider or rocker like one of these:
This
Etsy
shop has a bunch of great restored options. This yellow one is my favorite.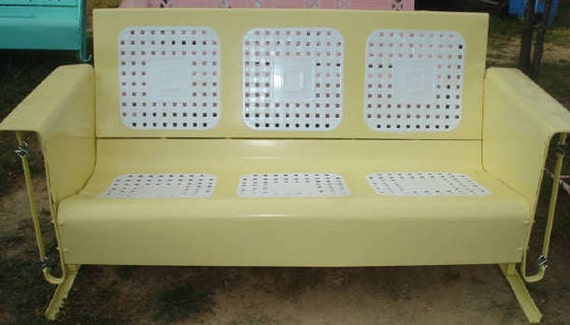 This glider on
eBay
is in rough shape, but is much closer to what I have been looking for. I might be willing to take on a restoration project like this. Might.
Would it be totally worth it or a waste of time?

One day I will find one at an estate sale or yard sale, but until then I might take
Jamie's
advice and get a reproduction. This shop
here
has a ton of options! I
LOVE
this crazy bright yellow single glider!
Man, I love a good rocking chair! If this one was a little lot less pricey, it and three more of it's friends would be mine. It's so cool!
Lowes has this one, and it's a reasonable price, hint hint hint Husband!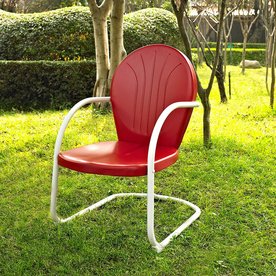 Which one would you pick?
Today I'm heading over to Cottage Sweet Cottage for
Rednesday
!